Sir Llew Edwards Building
The Sir Llew Edwards Building has several features including water harvesting, strategic shading and a substantial photovoltaic installation.
Most of the solar panels on the building's roof are laid flat or parallel to the roof. A small installation of experimental panels has been placed on tilt frames.
The Sir Llew Edwards Building includes a world-first collaborative teaching and learning space and the Institute for Continuing and TESOL Education. 
Known initially as GP North 4, the building was renamed shortly after construction in recognition of Sir Llew Edward's highly distinguished service as a long time UQ Senate member and nearly 16 years as chancellor.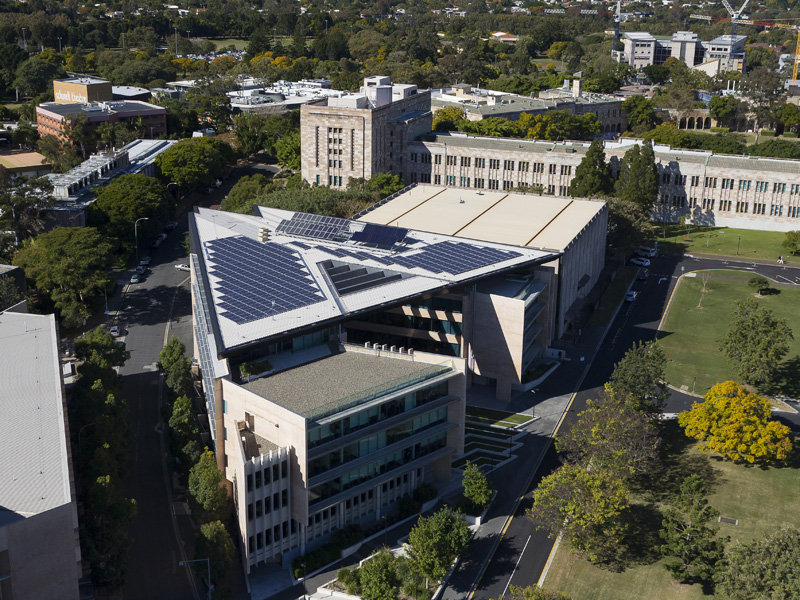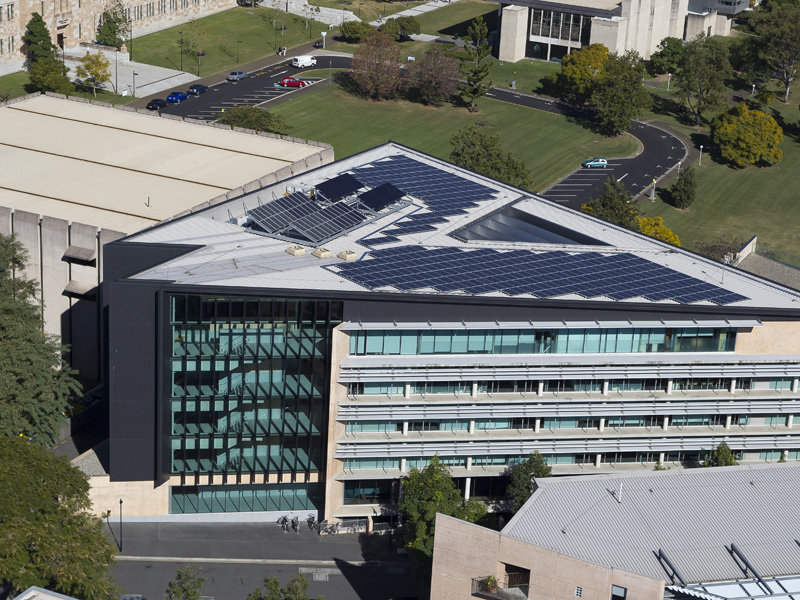 | | |
| --- | --- |
| Site name | UQ St. Lucia Campus |
| Building / location | Sir Llew Edwards Building (SLEB) - Bld. # 14 |
| Suburb / city | St. Lucia, Brisbane QLD, 4067 |
| Nominal DC output | 89.76 kWp |
| Module area | 612 m2 |
| Start-up date | 1/6/2011 |
| Visible on Live Data display | Yes |
| Date connected to display | 10/06/2011 |
| Site longitude | 153°29'44" E |
| Site latitude | 27°00'49" S |
| Height above sea level | 43 m |
| Time zone | AEST |
| Type of installation | Rooftop installation (elevated) |
| Tracking system | No tracking system |
| Tilt | 340° & 22° -  28° (small experimental arrays) |
| Orientation | 280° & 3° (main array - 89.76 kWp) |
| Module make & model | Trina TSM 240-PC05 (main array) |
| Module technology | Polycrystalline silicon |
| Module size | 1650 x 992mm |
| Number of modules | 374 |
| Inverter make & model | Aurora Power-One PVI-12.5-OUTD/-S & Aurora Power-One PVI-5000-OUTD |
| Number of inverters | 7 (6 x 12.5 & 1 x 5000) |