Concentrating Photovoltaic Array
The impressisve 6 x 7 metre Solar Focus, or Concentrating Array, has 560 parabolic mirror units that target and concentrate sunlight several hundred-fold onto high efficiency, triple junction solar cells.
A tracking system points the array directly at the sun even when it's hidden by clouds.
The solar concentrating array works very well in bright sunshine. Incoming sunlight is reflected from the back parabolic mirror to a small slightly curved front mirror which in turn reflects the light back onto a solar cell located in a recess at the centre of the parabollic mirror.
Each unit has a clear plastic front cover to protect the mirrors and the solar cell.
This mirro- based system is not as effective as conventional flat PV modules on overcast and cloudy days as the parabollic mirrors can only "capture" direct sunlight; they cannot make use of scattered or diffuse light that is not travelling parallel with their central axis. 
That is why the concentrating array has a tracking mechanism that always points the parabollic mirrors directly at the sun. 
Having a concentrating array at St Lucia enables a direct comparison with the performance of other PV technologies.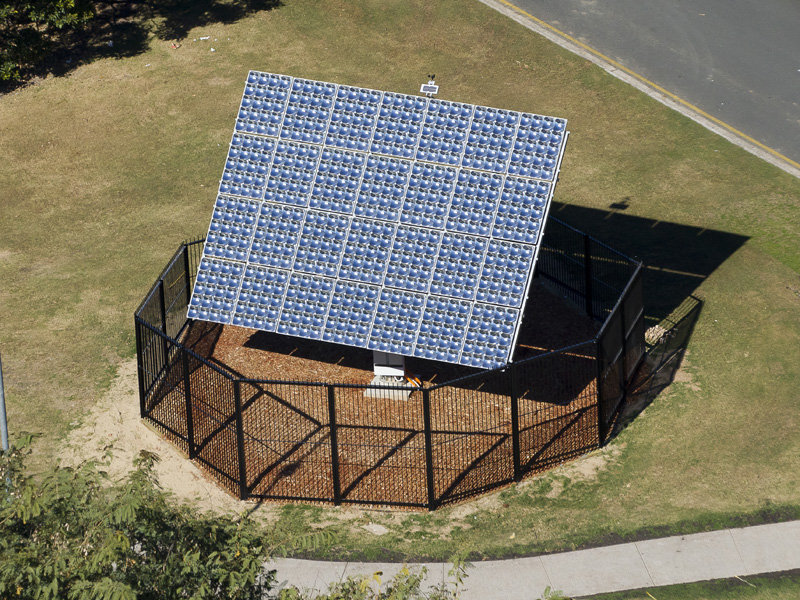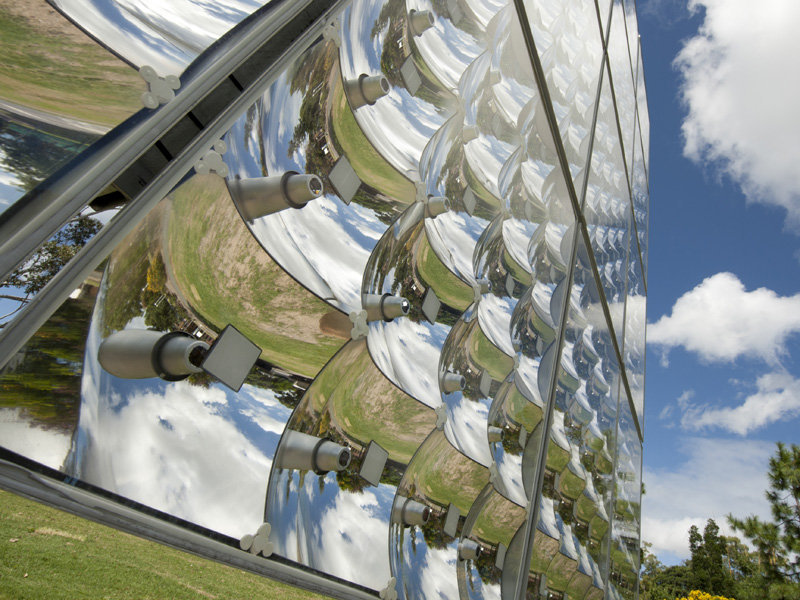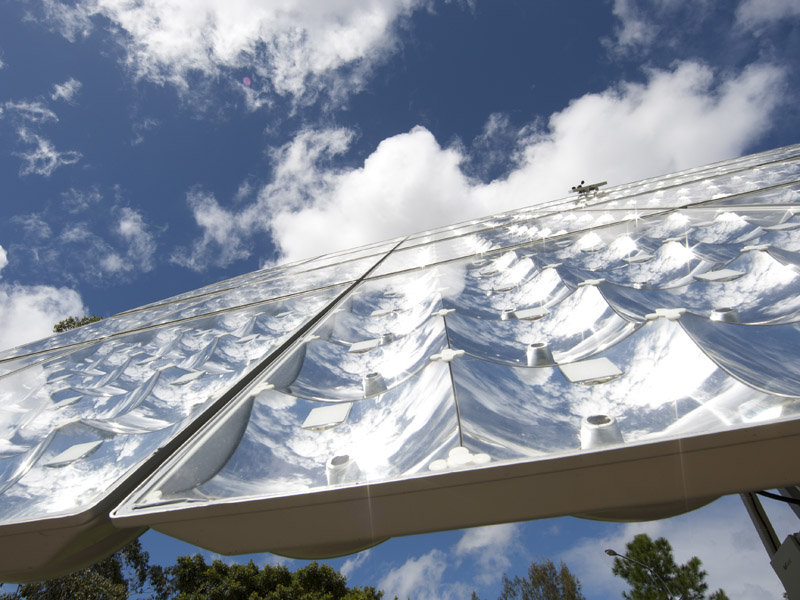 | | |
| --- | --- |
| Site name | UQ St. Lucia Campus |
| Building / location | Solar Concentrating Array -Sir Fred Schonell Drive |
| Suburb / city | St. Lucia, Brisbane QLD, 4067 |
| Nominal DC output | 8.4 kWp |
| Module area | 48 m2 |
| Start-up date | 23/03/2011 |
| Visible on Live Data display | Yes |
| Date connected to display | 12/06/2011 |
| Site longitude | 153°00'42" E |
| Site latitude | 27°29'41" S |
| Height above sea level | 18 m |
| Time zone | AEST |
| Type of installation | Mounted on Trackers off the Ground |
| Tracking system | Dual Axis Tracker |
| Tilt | Variable |
| Orientation | Variable |
| Module make & model | SolFocus SF-1100S |
| Module technology | Concentrating Photovoltaic Array (CPV) |
| Module size | 8000 x 6000 mm |
| Number of modules | 28 |
| Inverter make & model | Aurora Power-One PVI-10.0-OUTD |
| Number of inverters | 1 |