The boatshed has 16.8 kWp of roof mounted PV panels. The panels are installed parallel with the low angle roof line and are arranged symmetrically either side of the roof's NNE-SSW central ridge.
The boatshed provides a focal point for teaching and research boating activities: the Heron Island Research Station (HIRS)  has a small fleet of boats ranging in capacity from 5 to 12 persons. Compressors and other diving equipment are located nearby.
The boatshed has a workshop which is also used to maintain the HIRS amenities and infrastructure and to modify research equipment.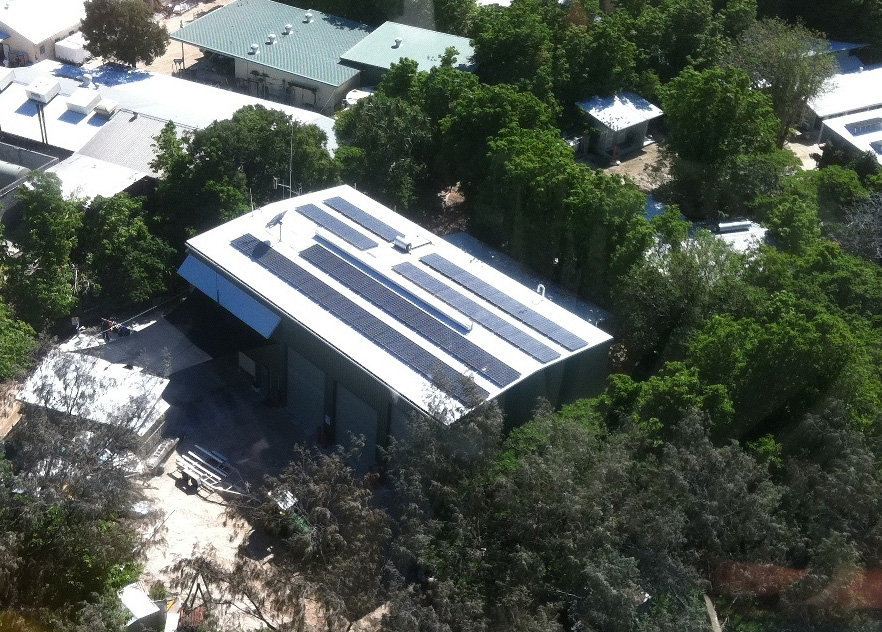 | | |
| --- | --- |
| Site name | Heron Island Research Station (HIRS) |
| Building / location | Boat Shed |
| Suburb / city | Heron Island, QLD |
| Nominal DC output | 16.8 kWp |
| Module area | 119 m2 |
| Start-up date | 1/06/2010 |
| Visible on Live Data display | No |
| Date connected to display | Mid 2012 |
| Site longitude | 151°54'45" E |
| Site latitude | 23°26'33" S |
| Height above sea level | 9 metres |
| Time zone | AEST |
| Type of installation | Rooftop installation (elevated) |
| Tracking system | No tracking system |
| Tilt | 5° |
| Orientation | 120° & 300° |
| Module make & model | Kyocera 210w KD210GH-2PU |
| Module technology | Polycrystalline silicon |
| Module size | 1500 x 990 mm |
| Number of modules | 80 |
| Inverter make & model | Aurora One PVI-4.2 |
| Number of inverters | 4 |